By Will Brown • DEMOCRAT STAFF WRITER • May 8, 2010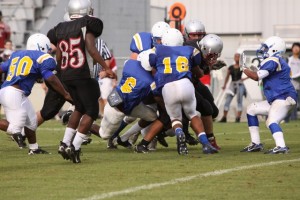 One may not recognize it, but a statewide holiday was observed earlier this week. First Day in Pads may not roll off the tongue, but best believe high school football players and coaches were well aware Wednesday was the first day they had an opportunity for the collisions that make spring football special.
It may be universally known that May 1 is the first day any team can — legally — begin spring practice in Florida. However, it's usually only the fanatical high school football fans who know that after three days in shorts and helmets players can strap on the shoulder pads.
"This is a day you just love as a head coach," said Wakulla coach Scott Klees after Wednesday's first day in pads. "You're finally able to hit and the guys have been waiting to hit."
Over at Jefferson County, first-year coach Jeremy Brown said there was a noticeable difference in practice intensity once the pads were brought out.
"Believe it or not the weight room is an amazing thing," Brown said Wednesday evening. "We were hitting better today than we did — practice-wise — throughout the fall."
Depending on one's perspective, Wednesday may have been the best day of May or the worst — because there are two weeks left in the grueling exercise that lays the foundation for this fall's champions.
Click link for full story>>>>>
---